When I received the news that Kudremukh, the place where I grew up, spent all of my childhood and school years was going to be closed down, I was hit by something that had never experienced before. Nostalgia. I was never really a big fan of that place. Its a small mining town with a population of around 10,000. The earliest memory I have of Kudremukh is rain, pouring rain. It spends a good part of the year drenching itself from the spout in the sky right above it. The only thing worth mentioning about the place is the scenic beauty it mars. All around Kudremukh you see beautiful hills, lush green grass lands, wild expanse of thick rain forests, the glisten of the rocks as the even sun shines its amber on the barren hillocks is permanently etched in my memory. After high school and before going to college, we had a vacation that spanned over three months. With nothing to do, our class would meet almost everyday at some argreed upon place and we'd start exploring the woods. It was mostly in these wild escapades that I got to see the magnificence that the national park around Kudremukh hid within it, and made me realize that the only thing that is ruining it is the town itself, and iron ore mine that it supports.
After that, I spent the rest of my years waiting for the place to close down and the jungle to reclaim it as its own. When I moved out to college, I was a frequent visitor to Kudremukh. The town was thriving, people going about their lives like nothing existed outside the few sqaure miles that the town spanned. I graduate in 2001 and moved to Bangalore to work. Between 2001 and 2004 I visited Kudremukh just once. It never really faded from my memory, with a history of 17 years associated with your life it is impossible to forget about it, yet I never really cared about much. I moved to College Station, Texas in August 2004.
It was a new life. I started afresh, with all my worldy belongings packed in three suitcases. I was so busy trying to carve a life out and make things work for me that I had no time for anything else, including dwelling on memories. Some time in May 2005, I was more or less settled comfortably, in one of my weekly calls back home my folks mentioned about Kudremukh. They told me that the iron ore mine was closing, the coming new year's eve would be the last day of mining there. The town would die with the mine. There is little that can be done about it. Nothing within me stirred. I was not numb, I was simply apathetic about the town.
As the days passed, I began thinking more about Kudremukh. It is the only place that comes even close to being my home town, and yet I refused to let it be a part of my identity. At least, that was what I wanted to believe. With the prospect of its demise looming I realized that somewhere along the way Kudremukh had become a part of me and that is here to stay. I began thinking about the school, the playground, classmates, long walks, the jungle, the rain, smell of dry soil quenched by the first drops of the summer rain, the sweet water of the brooks in the woods. All of this came rushing back to me like from a dam when the floodgates are opened. I was awashed in nostalgia. It is the only place that I still remember for what the place was, and not the people in it, or the relationships that I made there. I remembered Kudremukh for Kudremukh, not the childhood friends, not the first time I learned to ride a bike, not my first trophy, not my first day in school, nor my last day there. It sure has a special place in my heart.
I wanted to go back to Kudremukh, I wanted to see it again. I wanted to see it while I still could. But I was 12,000 miles away with no prospect of visiting India within the near future. My next tryst with Indian soil would be in december. And so the wait began.
With so much happenening around me, I didnt realize how time flew by and before I knew it, it was december and I was in India.
The itinerary was finalized. It was a small one, just 4 days. The date set was 20th December 2005. Along with my parents and my brother Shankar, I set off to Kudremukh. The journey wasnt eventful, as a matter of fact there was nothing eventful about the whole trip. Nothing special, great, noteworthy happened throughout. This was nothing more than my pilgrimage.
As we approached Kudremukh, the scent of the town wafted through the air. I could smell it from miles away. Its not a smell that can be explained or described. Its a feeling that transcends senses. When you have spent the first 17 years of your life in one place, you forge a connection with it that cannot be broken, an umbilical cord that cannot be severed. The feeling only got stronger as we neared the town.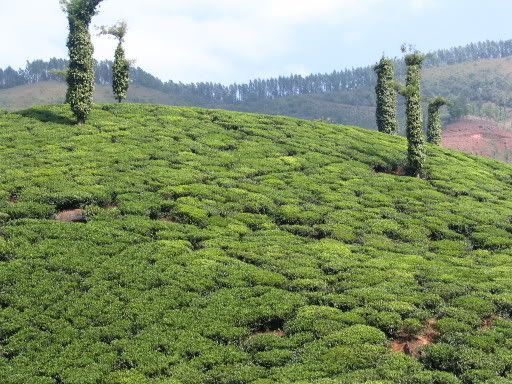 My first flicker of recognition was the tea plantations. Kudremukh is nurtured in the cradle of the western ghats. Western ghats have the ideal climate and soil to grow tea and coffee. As I passed through the tea plantations near Kudremukh I realized that my lips had curled themselves into a smile. Just a few hills more separating us. I knew I didn't have to wait too long, not anymore.
Drive to Kudremukh
I continued driving. The onset of ghats is unmistakably perceptive, especially if you are driving. The straight roads and smooth curves with adequate banking give way to twists, turns, hairpin bend curves, steep incline and descends, rumble strips to slow vehicles speeding through a descend that ends with a hairpin bend so on. These were the roads I roads I learnt driving on. It has been seven years since my tires rolled on these roads and yet I drove like it was old times, like I always drove. A new wave of memories crashed into me. I was about 15 when I started nagging my dad to teach me driving. The law abiding citizen that he was, he refused. He said I had to wait for another three years, get my learners permit, and only after that would be let me get behind the wheel. I was furious pissed and stubborn. After weeks of nagging and negotiation he agreed. I had the most bizarre first lesson I have ever had. Dad wouldnt let me sit in the driver's seat. He had me sit on the passenger's side and control the steering wheel while he took care of the transmission, brakes and throttle. With no straight roads around, we drove in these ghat roads. All my driving skills were developed and polished on these meandering merciless roads which have made the most seasoned city drivers car sick driving through. I surprised myself as I switched my driving style without missing a beat. Just a mile before i was driving straight and fast, and suddenly I cut my speed without realizing it and was negotiating the curves with the elegance and comfort that left my passenger oblivious of the change in the roads.
KIOCL
After eight hours of driving I passed a signed that said "Welcome to Kudremukh". Less than a minute later I saw the logo at a distance, a furlong or so away. The logo of Kudremukh Iron Ore Company Limited (KIOCL). It was on the side of the road at a roundabout, as the passed the sign and turned into the township reality dawned on me. 7 years, 3 cities, 3 continents and 25 thousand miles later, I was visiting home again. It was like I remembered it and yet nothing like I thought it would be. Time changes the places, but not nearly as much as it changes the people. The nostalgia one feels is not about how much the place has changed, but how much he has changed over the years. I could see myself 6 years old and braving the elements as I walked to school. Armed with an umbrella to defend myself against the celestial downpour, I marched on towards a school I hated to attend. Amazing how I always walked to the school, but ran my way back to home. When you are small everything appears to be so big. To me Kudremukh was a big town with lots to do. I always invented things to do. All the things that I took great pleasure in indulging when I was a kid seems so immature and boring that it makes me wonder if regression with age starts much earlier than senility. Maybe I am already regressing.